The Translation Process – Achieve the Best Results
Because Coral Knowledge Services works on an ongoing basis with multiple clients, producing multiple documents in multiple languages requiring multiple translators, our organizational skills are enviable. This strict attention to detail and organizational effectiveness allows us to successfully compete with all other translation companies. We actively create, view and manage project management tools so that at any point in the process you can trace exactly where we are on every one of your projects. This incredible project management style helps us produce efficiencies that virtually eliminate mistakes and enables us to meet or beat all of our clients' timelines, deadlines and budgets.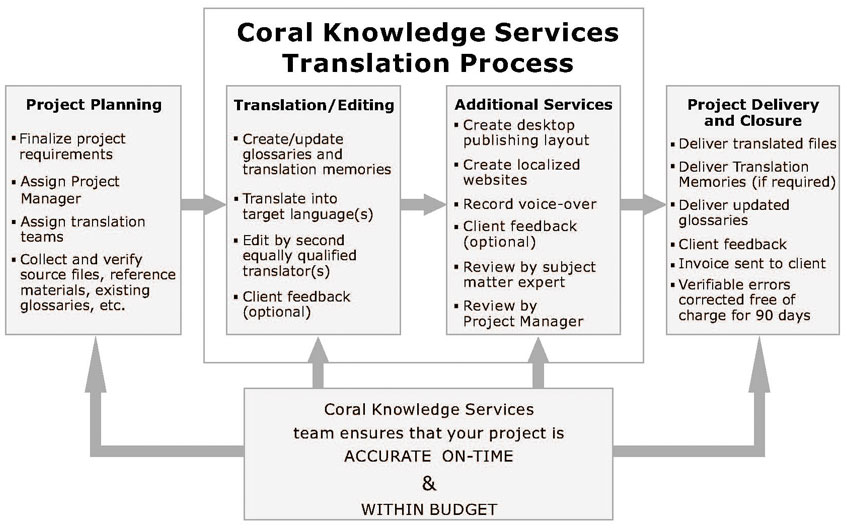 All Your Translations Are Guaranteed! We stand by all translations completed by our translators. We will correct any verifiable translation errors committed by our translators free of charge for a period of sixty (60) days. Stylistic changes (including terminology preferences not communicated to Coral Knowledge Services Pvt. Ltd., prior to the start of the translation) are not covered by the guarantee and will be subject to additional charges.
Processing Customer Enquiry
Our potential client sends enquiry through email or web form or through online chat
The enquiry is classified according to the language pair, duration, translator availability, specialization and few other parameters
Once the enquiry is qualified, it is pushed to the project manager for immediate action
The project manager generates an automatic quote from our CRM and sends it to the customer for approval with the justification to cost, timeline, validity, etc.
On receiving the quotation our client either calls to confirm the status or sends in the mail to confirm
Both are recorded in our CRM for further action. This way we also keep in track with the client and enquiry history for future use.
Processing Customer Orders
Customer service efficiency of any company is directly linked to its customer order management efficiency. We handle hundreds of translation requests on a daily basis from as many customers from more than 35 countries. Our custom built order management solution handles our sales orders and accounts for optimized fulfillment of all incoming orders.
Listed below the process we follow in handling each and every enquiry on a day to day basis.
Our clients forward the approval based on our quotation.
Some of our clients request sample to see if the translation suits them or to test our skills. We promptly respond to such requests and send. We also send in translator profile for clients to be sure of our capability
Once the client approves the quotation or sample, Coral Knowledge Services will get the document translated
Coral will check for the file format, quotation, etc and generate a progress sheet using our project management software and share that with our clients and then assign the work to the translators
We also transmit the files for translation through FTP, a secured process to ensure the files reach the translators without any vulnerability.
We monitor progress of translation at each and every step to ensure there is work happening from the time it is assigned.
As we are aware of the high reliance on the individuals on a different location, we take proper contingency measures and track the progress every hour and day to avoid delays or issues during the deliveries.
Once the files are received from the translators, it is sent to the proof readers who are identified to do while receiving the order. Once the proof reading is done, it is sent to the in house team to do a document validation to check if all the pages or graphics or diagrams are pagination is in order. Required fonts, etc are present and it is ready for delivery.
We transmit the files along with the invoice for processing payment from client's side.
If client has any issues with the translation, we enable a conference call with the translator and the project team for them to discuss and sort out.
We sign NDA's and SLA's as per the client's requirement.
Hope you are satisfied with information to arrive at a decision?
To evaluate and decide on the right translation company for you, use our live support to talk to our Project Managers or you can also mail us at info@coralknowledgeservices.in or Call us at +91(011) 45695658 for information.